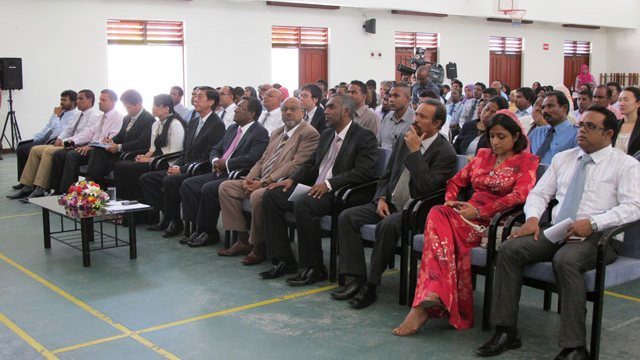 A ceremony to mark the handing over of the first phase for the Project for Clean Energy Promotion in Male' was held today at Hiriya School. The ceremony which began at 11:00am and was inaugurated by the President of Maldives, H.E. Dr. Mohamed Waheed, and the ambassador of Japan to the Maldives, H.E Mr. Nobuhito Hobo. Various officials including the cabinet ministers, state ministers and other high level government officials also attended this ceremony.
The Project for Clean Energy Promotion in Male' is a 1 billion Yen grant aid provided to the Maldives by the Japanese government which is aimed to install solar rooftop grid connected PV system in public buildings in Male'. And its implementation partners are Japan International Cooperation Systems (JICS), Ministry of Housing and Environment (MHE), State Electric Company (STELCO) in collaboration with Maldives Energy Authority (MEA).
According to the Minster of Housing and Environment Dr. Mohamed Muizzu, this project marks a milestone in successful demonstration of renewable energy technologies in Maldives and will bring confidence to investors. He also described as the carbon neutral target as being a strategy to reduce dependence on fossil fuel and also demonstration to the rest of the world that economic solution to the rising oil prices is possible.
During the ceremony the President Dr. Mohamed Waheed, highlighted on the high costs the country pays for fuel imports alone and stressed on the significance of using alternative energy sources such as wind, oceanic, and solar energy. Hence he mentioned that the government will work to attract investors to promote renewable energy use in the country. Moreover, he noted the generous assistance from the government of Japan, not only for energy sector, but also for other sectors such as the establishment of schools in various parts of Maldives.