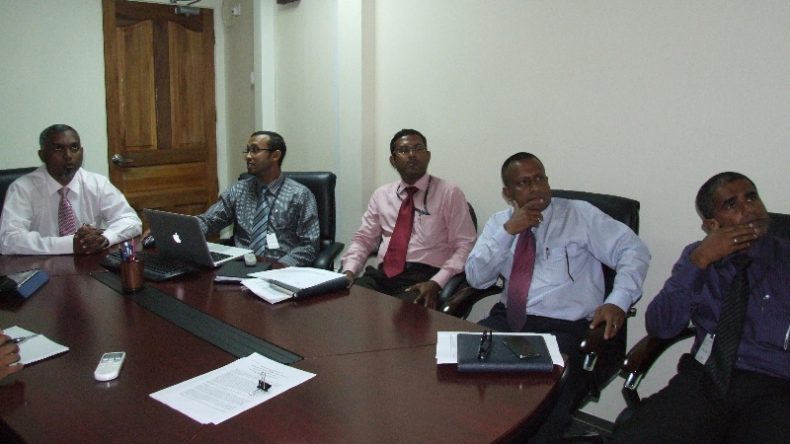 Minister of Housing and Environment Dr.Mohamed Muizzu meets with the senior officials of the State Electric Company Limited (STELCO), regarding the power cuts in some areas of Male'. The meeting was held at the Ministry of Housing and Environment. Speaking at the meeting Minister said that due to the frequent power cuts in Male' many people are facing difficulties and he expressed his concern regarding the issue. Hence he expressed hope for a permanent solution to the issue, and requested STELCO to take all measures to resolve this issue as soon as possible. Minister also advised STECO officials to give prior notice and information about the power cuts to the peoples so that they can be prepared early.
Speaking at the meeting, Chief Technical Officer of STELCO Dr. Zaid Mohamed explained that the power cuts had become inevitable due to the high electricity demand on the existing generation capacity in Male'. He also said that there was a gradual increase in electricity demand annually, and also a noticeable increase during the months from March to May, which is the warmest period of each year. Hence, STELCO had been facing many difficulties supplying uninterrupted electricity to various parts of Male'. He also highlighted that STELCO is currently implementing a project to increase the generation capacity, and that the new generators will be installed by early May 2012, which will solve the power cut problems.
Moreover, referring to the fact that the highest electricity demand for Male' was during the working hours for offices, the Minister said that the he will put an effort to decrease the electricity demand from the Government offices through promoting conservative measures, especially towards the use of air-conditioning.