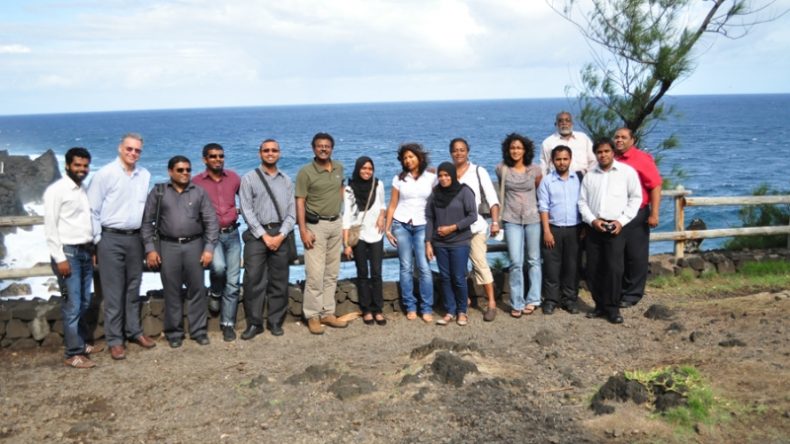 As part of the World Bank's South-South Experience Exchange Trust Fund (SSEETF) program, a delegation from the Maldives has successfully completed a five day study to the island of Réunion. The study tour was organised in collaboration with Électricité de France (EDF) and Regional Council of Island of Réunion. The delegation comprised of representatives from Presidents Office, Ministry of Housing and Environment (MHE)'s Climate Change and Energy Department, Maldives Energy Authority (MEA), Environment Protection Agency (EPA), Utilities companies and project consultant assigned by the World Bank.
The objective of this study tour is to learn from the Réunion experience in developing and putting into practice their own carbon neutral plan as well as their experimentation with innovative energy technologies . Réunion is a French island with a population of about 800,000 located in the Indian Ocean, east of Madagascar, about 200 kilometres south west of Mauritius. Administratively, Réunion is one of the overseas départements of France and is an integral part of the Republic with the same status as those situated on the European mainland.
The tour included meetings focused on understanding the challenges of island faced in implementing renewable energy technologies as well as gaining pespective on actions being taken in Reunion to address increasing energy demand. In addition, the delegation had the opportunity to learn about Green Energy Revolution Reunion Island project, which is an initiative aimed at making Reunion a demonstration ground for sustainable development. The tour also included visit to renewable energy installations such as solar thermal plants, wind farms, waste management system and heat recovery plant, renewable energy research facilities as well as the first Sodium-Sulfur (NAS) electricity storage battrey installed in Reunion.
In addition to site visits, the delegation was given the opportunity to meet and interact with senior officials of the Regional Council and EDF. During the meetings both sides expressed their desire to establish a cordial relationship between two island states especially in exchanging technical know how and experiences in developing the energy sector to achieve the carbon neutral target.